After checking my Ready Clean Detox review you will find out the answer for your question "What are my odds of passing a urine drug test using this product?"
Benefits
Update 2022!!! Ready Clean Detox Program may increase your chance to pass a urine drug test.
It is recommended for supervised drug tests.
Overall Ranking: 3/5

Website: Testclear.com
Guarantee: Money back guarantee from the manufacturer
Price: $19.95
Language: English
Support: Live Chat and Customer Service ( free call)
Overview – How Can Ready Clean Detox Program Help You?
If you have smoke marijuana only a few times in the last 30 days and have a drug test within the next 2 days, you should consider Ready Clean Detox Program.
Ready Clean Detox Program is designed to detoxify the body and reestablish body nutrient levels to normal from 1 to 5 hours (known as the "detoxification zone").
During this time:
1. Your urine is allegedly free of drugs the test may detect, and
2. Normal levels of background nutrients are reestablished. As a result, your urine possesses the "markers" that drug tests look for to see if you are trying to beat the test.
The detoxification zone starts 1 hour after you have finished drinking Ready Clean Cleansing Drink and continues for to up to 5 hours, with maximum effect during the FIRST 3 hours.
In summary: the main principals behind this program are to dilute the urine and add necessary vitamins and minerals. The goal is to beat the drug test, not to completely detoxify the body.
If you try to dilute your urine without the aid of a detox drink, your urine will appear too clear and will not contain enough necessary vitamins and minerals to pass the drug test. This means, as a minimum, you will need to re-take the drug test.
Ready Clean Detox Program was designed for users with light toxin exposure. Time of detoxing is 2 days.
Ready Clean Detox Program consists of 2 parts: PreCleanse supplement packet (6 capsules) and Cleansing Drink.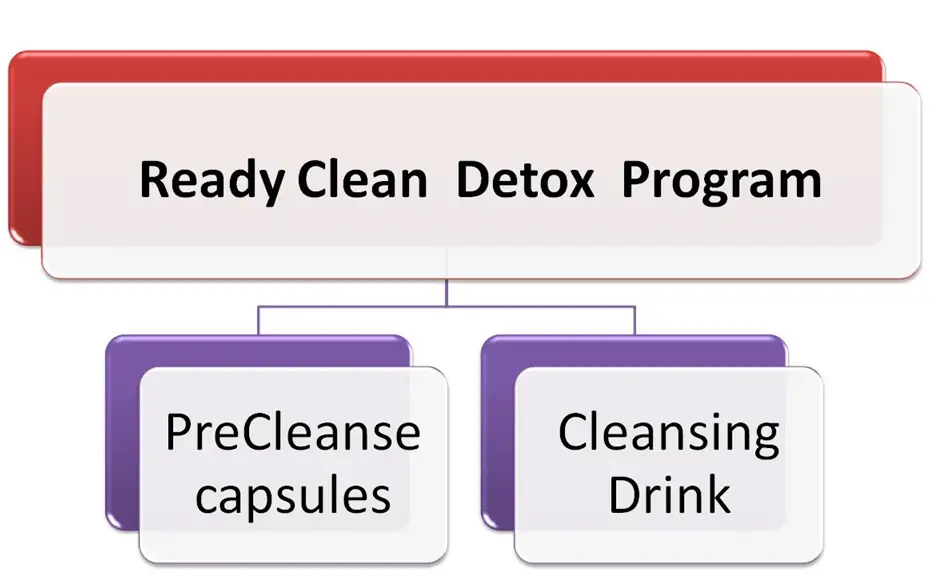 Contents:
• 6 (six) capsules PreCleanse supplement packet, used 24 hours before talking Cleansing Drink, and
• 16-ounce bottle Ready Clean Cleansing Drink, orange, grape or tropical flavor, fortified with vitamin and minerals.
Ready Clean Detox Program Ingredients:
• Vitamins: A, D, Thiamin, Riboflavin, B6, Folate, B12, Biotin, Pantothenic, Ca, Magnesium, Zinc, Selenium, Chromium, Manganese, Potassium, Creatine Monohydrate and Glucuronolactone.
• Herb Blend: Nettle , Ginseng, Dandelion, Milk Thistle, Hawthorne Berry, Uva Ursi, Mullein Leaf, Stevia and Fruit Fiber.
• Other Ingredients: Filtered water, Fructose, Natural Flavor, Citric Acid, Phosphoric Acid, Vegetable Juice for Color, Potassium Sorbate, Sodium Benzoate.
Summery Instructions:
Instructions may vary from person to person. If you want to maximize the usefulness of the product, an individual program can be specifically designed for you. Please contact Ready Clean Detox Program website to learn the best way to utilize the product for maximum benefit.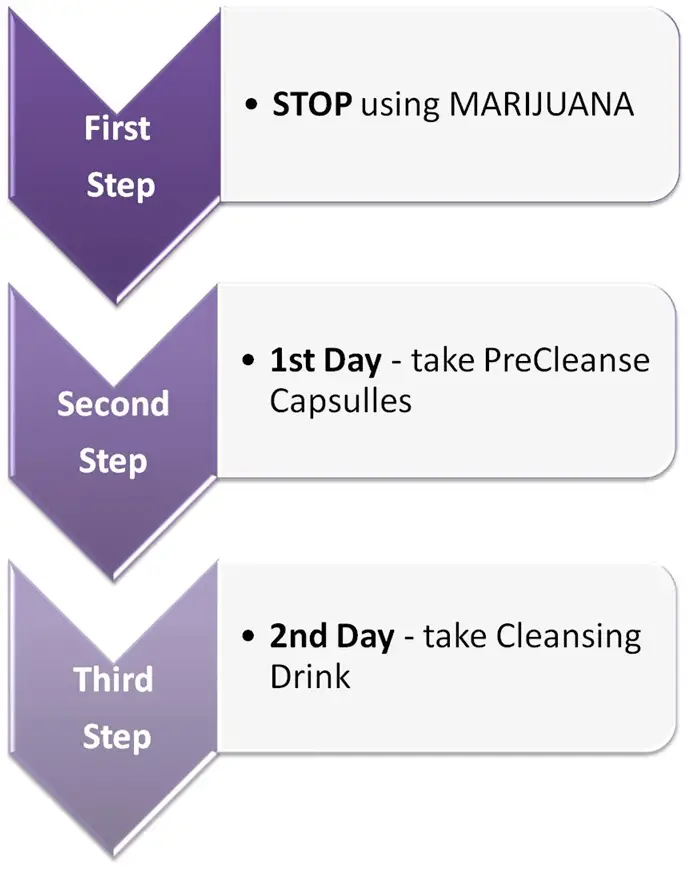 First Step: STOP using Marijuana!
MINIMUM 48 hours before starting the detox program, you MUST STOP using marijuana. The longer you refrain from smoking marijuana, the easier it is to clean the toxin from your body.
Every minute you lay off marijuana, the body lowers the THC ( it will be a link to a definition) level. The Detox product takes care of the rest.
Second Step: Take PreCleanse Pills
1. In the 24 hours you need to take one (1) PreCleanse Pill with 16 oz. glass of water each four (4) hours before you use Ready Clean Cleansing Drink.

2. You may also drink an additional two (2) 16 oz. glass of water spread equally across each eight-hour window. DO NOT drink all the water at once.
3. Urinate as often as possible to flush out your system. The Ready Clean Program will restore your natural background markers so you will not have diluted urine during the test.
Third Step: Take the Cleansing Drink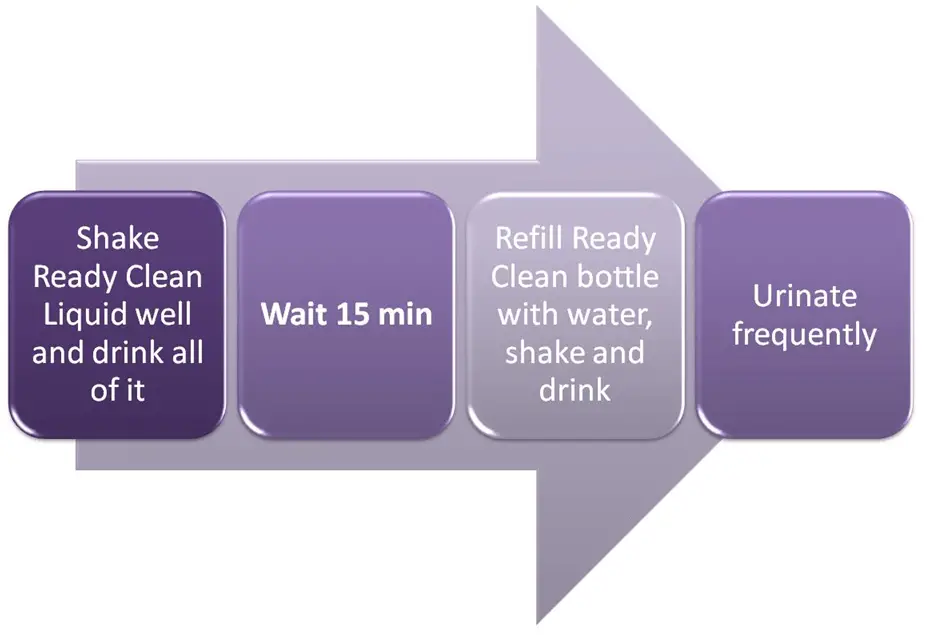 On the drug test day, begin your cleansing program with Ready Clean Liquid. Shake the Ready Clean Liquid well and drink the entire contents of the bottle. Wait 15 minutes. Refill the Ready Clean Liquid bottle with water – shake the bottle well and drink. Urinate frequently. Maximum effect is at 3 hours.
If you want to be sure of your drug test results, be sure to take your home urine drug test first.
To obtain best results, you should:
• Consume up to 20 ounces of fluids every two hours before drinking Ready Clean Cleansing Drink and every two hours thereafter.
• Avoid eating fatty or greasy foods.
• Avoid drinking alcoholic beverages or taking over-the-counter drugs or unnecessary medications.
• Eat only light meals and urinate frequently to flush out toxins.
• Eat light meals including fruits, vegetables, and fiber during your cleansing program with Ready Clean.
• Exercise regularly, and drink at least 12 8oz glasses of water in the days prior to using Ready Clean.
• Drink recommended allowance of six (16-ounce) glasses of water a day. Water is catalyst that assists the body's natural cleansing process.
Pros / Cons
Pros
1. Detox program increases the speed of THC cleansing from your body.
2. Money back guarantee from the manufacturer.
3. You can order the product overnight if you have your drug test within the next few days.
4. It is legal to use.
5. Unlike other products specifically designed to fool urine drug testing by adding potentially dangerous chemicals, Ready Clean consists entirely of natural products.
Cons
1. Results vary from person to person. Factors that play significant role include body weight, life style, individual metabolism and how often marijuana is consumed.
2. You have to explicitly follow the instruction if you want to pass your test. A small mistake may ruin your chances to clean out your system and pass the test.
3. You must be on a strict diet on the day of your test.
4. If you are overweight (more than 200 Pounds), do not exercise and/or have slow metabolism, you may need to use XXTRA Clean or MEGA Clean Detox Programs.
Customer Support
Ready Clean Detox Program website Testclear.com provides outstanding helpful and professional customer service via Live Chat and Phone line. You can have a straight talk as to how you can pass a drug test. Based on your individual situation, you will receive recommendations what product is the best for you.
Ready Clean Detox Program Final Verdict
Update 2022!!We did not find many positive product reviews or feedback on blogs. If you are on a tight budget, and want to get extra help in order to pass your drug test, Ready Clean Detox Program may be useful for you since it contains many vitamins and herb supplements that increase body metabolism and help clean the body from THC and reestablish body nutrient levels to normal during the "detoxification zone".
Overall Ranking: 3/5

Have you tried Ready Clean Detox Program? Let us know what you think! Also, be sure to check out my Toxin Rid Review for additional options to help you with your journey of detoxing.
and
 If you found this review helpful, please "like and share" so Others can also benefit from it!
Helpful links:
"How Long Does Weed (THC) Stay in Your Urine? – Important Data You Need to Know!!!"
"Drug Testing for Marijuana:Facts and Myths You Must Know!"
"Fact or Fiction – You Can Beat a Drug Test with Home Remedies?"
Learn more here:
American Journal of Clinical Pathology, The Effects of Adulterants and Selected Ingested Compounds on Drugs-of-Abuse Testing in Urine
PubMed, Rapid elimination of Carboxy-THC in a cohort of chronic cannabis users.
Jpo.Wrlc.org, The marijuana detection window: Determining the length of time cannabinoids will remain detectable in urine following smoking
WebMD, Home Remedies: Drug-Test Cheats Try New Tricks on Labs
Ready Clean
One of the most effective detox drinks on the market
Ready Clean Detox remains one of the most popular and effective detox drinks for a urine drug test on the market.