Update 2023!! In this Herbal Clean Qcarbo20 review I am going to talk about how this detox drink may increase your chances of passing your urine drug test, especially if you are a light to moderate user.
Benefits
If you are a recreational drug user, not being prepared for a drug test is a terrible reason for not getting or holding on to your dream job. One of the most popular methods of preparing for a drugs test, other than abstaining from illicit drug use altogether, is through the use of a detox drink such as Herbal Clean QCarbo20.
Herbal Clean QCarbo20 is one of the most popular detox drinks on the market, making it a likely option for those who need to pass a urine drug test. In an effort to enlighten my readers as to the benefits and shortcomings of detox drinks in general and Herbal Clean QCarbo20 in particular, I carried out the following review of the product.
Overall Ranking: 3.0/5 


Website: Amazon.com
Price: Check price
Language: English
Support: Amazon.com customer service
Overview –

How Can 'Herbal Clean QCarbo20' Help You?
1. Recreational drug users spend a lot of time worrying whether or not they will be able to pass a drug test in order to get a job, or retain the job they already have. For a few jobs such as in the fast food business where there's a high turnover of employees, drug tests aren't usually administered.
However, for most jobs involving greater responsibilities and/or longer terms of employment, applicants and existing employees can expect to be asked to submit a urine sample for a drug screen at any time.
Products like Herbal Clean QCarbo20 are quite useful in such tight situations. Most detox drinks, including Herbal Clean QCarbo20, haven't been medically tested and their safety can't be guaranteed. But desperate times call for desperate measures.
2. Those who have prescriptions and take drugs for medical reasons that might show up on a drug screen have nothing to worry about. Just inform your employer in advance of your test to be on the safe side.
3. Herbal Clean claims that its product works by eliminating toxins from the body thanks to a unique blend of herbs and minerals. Realistically though, this isn't quite true. Herbal Clean QCarbo20 works by diluting urine and flushing toxins out of the body.
Attempting to flush drugs in the blood out of your body through the urine does not completely eliminate these drugs in your body. Traces of the drugs will still be present in various concentrations in your fat cells. Detox drinks just flush out the drug metabolites present in your blood at a certain time.
This is a double edged sword however. It's a good thing in one way because working by increasing your urine output and diluting the urine makes the drink suitable for almost all drugs. The drinks dilute everything present in your urine regardless of what it is. So the drink is not just for marijuana.
4. On the other hand, the use of detox drinks such as Herbal Clean QCarbo20 is not the surest way of passing a urine drug test. Most labs now have technology and equipment that can detect when a urine sample has been intentionally diluted. This advance in technology has greatly increases the chances of you being caught with traces of illicit drugs in your system and not getting the job, or losing the job you have.
5. Another issue with using detox drinks such as Herbal Clean QCarbo20 is that they haven't been medically tested or approved. We have very little information on the safety of detox drinks. They also contain lots of ingredients that may affect the body in ways that we don't completely know.
Pregnant women, individuals with kidney disease, and people on medication should consult their doctor before taking detox drinks.
6. Needless to say, Herbal Clean QCarbo20 isn't the only detox drink available on the market. There are other popular products including: Herbal Clean QCarbo32, Herbal Clean QCarbo16 and Herbal Clean Eliminex Detox.
Contents
Herbal Clean QCarbo20 2o oz bottle comes in lemon-lime, strawberry mango, and raspberry flavors. When you order the drink online, you'll also get five super boost energy detox tablets to enhance the drink's detoxing effects.
Herbal Clean QCarbo20 Ingredients: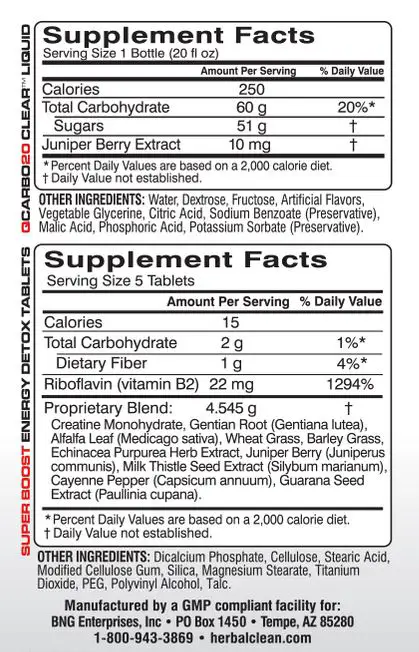 Herbal Clean QCarbo20 contains the following ingredients, constituting 250 calories:
Total carbs 60g
Juniper Berry Extract 10mg
Water
Dextrose
Fructose
Artificial flavor
Vegetable Glycerine
Citric Acid
Sodium Benzoate (a preservative)
Phosphoric Acid
Malic Acid
Potassium Sorbate (a preservative)
As for the five tablets that come with the drink:
Total carbs 2g
Riboflavin 22mg
Gentian Root
Alfalfa Leaf
Barley and Wheat Grass
Creatine Monohydrate
Juniper Berry
Cayenne Pepper
Milk Thistle Seed Extract
As you can see, most of these substances are unfamiliar to the layman. Only the carbs and riboflavin are well known to the average person. The purpose of riboflavin is to give the urine a yellowish tinge. This means that even after peeing a lot, urine still has some color as to not make it obvious that it's been diluted.
The herbs and minerals don't really extract and remove toxins from your body and cells. The entire purpose is to flush your kidneys and dilute urine as much as possible so that drugs become undetectable.
Summery Instructions: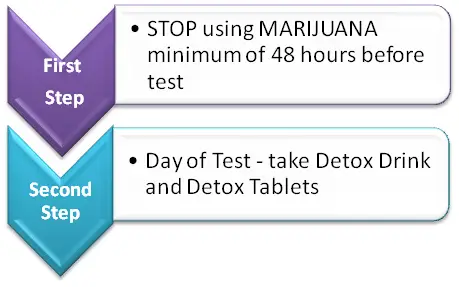 First Step: STOP using Marijuana
Minimum 48 hours before using Herbal Clea QCarbo20 drink, you must STOP using marijuana.  The longer you refrain from using marijuana, the easier it is to mask the toxin in your urine.
Every hour you lay off marijuana enables the body further lower the THC..
Second Step: Take the Cleansing Drink and Detox Tablets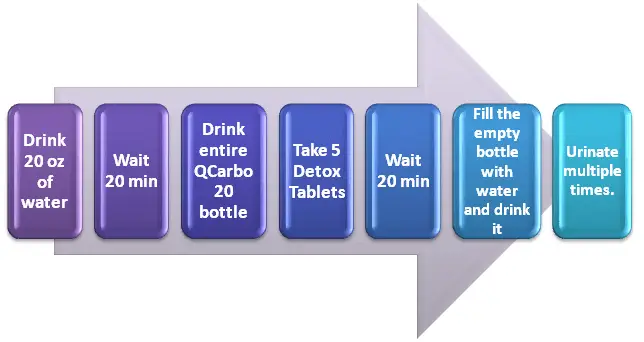 Drink once 20 ounce glass of water;
After 20 minutes, drink the entire Herbal Clean QCarbo20 bottle after shaking it well;
Take the 5 detox tablets;
Wait about 20 minutes then fill the empty bottle with water and drink it all;
Go to the bathroom and urinate as much as possible.
If you want to be sure of your drug test results, take a home urine drug test first.
To obtain best results, you should:
If you know that you're going to be drug tested, try to abstain from drugs as long as possible before the test;
Drink more water if you can;
Drink on an empty stomach or take with something light like toast;
Don't consume any vitamins, alcohol, or acidic liquids like vinegar before using the drink;
If you're pregnant, suffer from an illness, or are on meds, consult your doctor first.
Herbal Clean QCarbo20 Review Video
Here's a video review about the Herbal Clean QCarbo32 which is effectively the same thing but a little more potent. If you would like to learn more about the QCarbo32, read my QCarbo32 Review here. In the meantime, watch the video so you can learn more about QCarbo20 and how it works.
Pros/Cons
Pros
Widely available.
The riboflavin adds a yellow tinge to your urine to mask that the urine has been diluted.
Company is well known and has lots of other products on the market.
Comes in 3 flavors.
Cons
Doesn't work with everyone.
Works best if you've abstained from drugs for at least 2 days or more before your test.
Doesn't state how quickly it works, or how long its effects should last.
Its safety hasn't been confirmed medically.
Customer Support
For any assistance regarding Herbal Clean QCarbo20, contact Amazon using email, phone, or online chat and they'll be able to provide you with the assistance you need and answer your questions.
Common Herbal Clean QCarbo20 Questions
Here are some common questions (with answers) that I get.
How do you take qcarbo20?
The Herbal Clean QCarbo20 is a drink similar to a sports drink and you should drink it ONE HOUR before your drug test.
How long does the herbal clean last?
The Herbal Clean QCarbo20 lasts for about 5 hours. Individual times will vary though, but in most cases it is the 5 hour window.
How much water should I drink with Qcarbo20?
You should drink 8oz of water with the Herbal Clean QCarbo20.
QCarbo20 Review

: My

Final Verdict
Update 2023!! Despite working in the same manner as most detox drinks, i.e. by diluting the urine, Herbal Clean QCarbo20 seems to yield better results than others. However, it's not 100% guaranteed to work, but it's a decent option to consider when in the tight position of having to take a drug test.
Overall Ranking: 3.0/5 

Hope you found our Herbal Clean QCarbo20 Detox review useful. If you've tried detoxing using QCarbo20, let us know more in the comments so that others can gain and benefit from your valuable experience. Also, be sure to check out my Toxin Rid Review for additional options to help you with your journey of detoxing.
 If you found this review helpful, please "like and share" so Others can also benefit from it!
and