In my detailed Crafty Vaporizer review I am going to talk about these product instructions, pros and cons and our recommendations of using it.
Overall Ranking: 4.7/5

Website: VaporNation.com
Warranty: 2 year warranty
Price: $279.00
Language: English
Support: VaporNation.com
Benefits
Crafty Vaporizer will provide you with a great experience in vaping medical marijuana and waxes.
Overview – How Can Crafty Vaporizer Help You?
The Crafty Vaporizer is one of the most unique portable vaporizers on the market today.
It has a host of features that have earned it the title "the Rolls Royce of portable vaporizers." The Crafty is made by Storz & Bickel who have other vaporizers on the market including the Volcano and the Mighty.
The German company has demonstrated its prowess and intelligence when it comes to vaporizers. he Crafty is no different than the company's other products. In fact the Crafty might stand out more.
The size of the device makes it one of the most discreet vaporizers available right now. It's easy to operate with just one button.
It comes with a single lithium ion battery and all the components needed to produce great quality vapor. The Crafty is mainly used for smoking herbs thanks to its large filling chamber.
You can also use it to vape medical marijuana concentrates using the liquid pad that comes with the device.
Crafty Vaporizer Parts:
• 1 x Power Adapter
• 1 x USB Cable
• 1 x Liquid Pad
• 3 x Screens
• 1 x Cleaning Brush
• 1 x Herb Mill (Grinder)
• 1 x Filling Aid
• 1 x Seal Rings
• 1 x Instruction Manual
Temperature Control:
The Crafty is a device that's far from complicated. Just push a single button to perform all the functions you need. Click the button and the vaporizer turns on and heatsto 365 degrees Fahrenheit90 seconds. If you want a higher temperature, then click the button one more time and it'll heat to 383 degrees Fahrenheit.
A momentary vibration and LED light switching from red to green show that that the desired temperature has been reached and the Crafty is ready for use.
How Does the Crafty Heat Your Dry Herbs?
This process is similar to that of the Mighty and most other vaporizers made by Storz & Bickel. It uses both convection and conduction.
Convection is heating dry herb with hot air while conduction is heating the herb against the wall of the device's chamber.
Convection is great because it fully extracts all the taste and aroma from the herb and into the vapor while conduction speeds up the vapor creation. When you have both, which is the case here, you get quick vapor that is thick and rich in flavor.
There's also a cooling unit to ensure that the vapor that reaches you through the mouthpiece isn't too hot.
Crafty Vaporizer Design.
1.At 4.3 inches tall and 0.3 pounds in weight, the Crafty is Storz & Bickel's most compact vaporizer.
You can carry it with you wherever you go just like you would your phone or wallet.
The exterior design of the vape has grooves that allow heat to escape from the inside of the device. This prevents the device from becoming too hot, which would be a major flaw for a portable vaporizer.
Its design makes it easy to hold and difficult to slip from your hands. The fact that It is made from plastic takes nothing away from its strength and durability.
2.The Crafty features a swivel mouthpiece that can be flipped in and out according to your usage. If you want to vape, then you can flip it out to inhale. Once you're done and want to put the Crafty back in your pocket or store it away, you can flip the mouthpiece back in.
3.Despite being portable, you won't need to repeatedly reload the filling chamber with herb. The filling chamber has a capacity of 0.3 grams of dry herb making it spacious and capable of storing lots of marijuana herbs for long vaping sessions.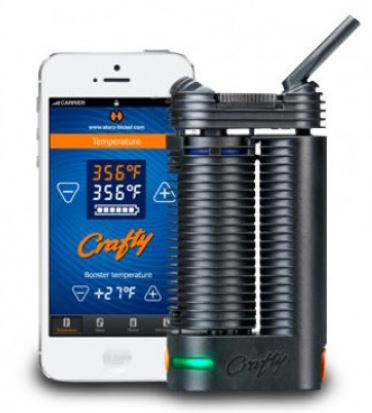 You don't even need to grind your herbs before loading them into the chamber as the vaporization process is thorough and strong. If you'd like to smoke medical marijuana concentrates, then add them to the liquid pad and insert it into the chamber.
4.If you're bothered by having only one button to control your vaporizer and would like more options, Storz & Bickel created an app just for that purpose.
You can use the app to adjust the default and booster temperatures of the device. It'll also allow you to read the battery status and change the vibration settings.
Short Summery Instruction: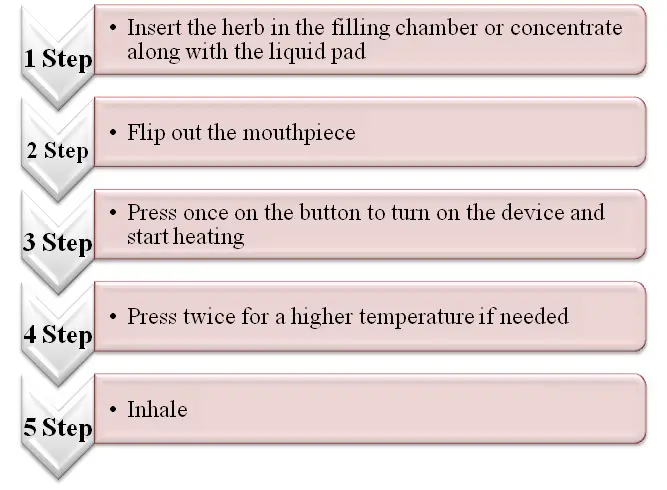 1.Insert the herb in the filling chamber or concentrate along with the liquid pad.
2.Flip out the mouthpiece.
3.Press once on the button to turn on the device and start heating.
4.Press twice for a higher temperature if needed.
5.Inhale.
Usage Tips:
1.Use the mobile app to adjust default and booster temperatures.
2.Use the mobile app to know the battery status of the vaporizer.
3.Clean the vaporizer regularly.
Pros / Cons
Pros:
1. High quality vapor.
2. One of the most portable vaporizer out there.
3. Can be used to smoke herbs and waxes.
4. Durable material.
5. Fast heating time .
6. Extremely easy to use.
7. Mobile app for more control.
8. Cheap for all its qualities (cheaper than the Mighty).
9. 2 year warranty.
10. Easy to clean.
Cons:
1.No balloon bag system.
2.Fewer temperature settings.
Customer Support:
Customer support Mighty Vaporizer is provided www.vapornation.com by e-mail, chat and phone line. www.VaporNation.com
Crafty Vaporizer Final Verdict:
Is the Crafty a Good Vape?
Our final verdict is that the Crafty by Storz & Bickel deserves a 4.7/5. This is all thanks to its compact and durable design, ease of use, price, and the availability of a mobile app.
User reviews of the portable vaporizer are mostly favorable. If you're someone looking for a portable vaporizer to smoke medical marijuana then this will work with both herbs and concentrates.
Overall Ranking: 4.7/5

Have you tried using the Crafty vaporizer? If so, please leave a comment below so that others can benefit from your experience. We would love to hear about your experience with this portable vaporizer.
If you found this review helpful, please "like and share" so Others can also benefit from it!