After reading my Herbal Clean QTABS review you will get the answer for your question "What are my odds of passing a urine drug test using this product?"
Benefits
Herbal Clean QTabs may slightly increase your chance to pass urine test.
Overall Ranking: 2/5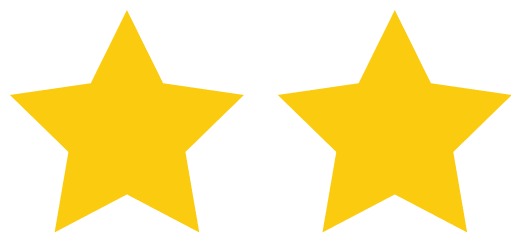 Website: Amazon.com
Guarantee: Money back guarantee from the manufacturer
Price: Check price
Language: English
Support: Amazon.com customer service
Overview – How Can Herbal Clean QTabs Help You?
Herbal Clean QTabs is another extensively promoted online cleansing product for passing a urine drug test by Herbal Clean.
The Seller, "Herbal Clean", states that 'Herbal Clean is the nation's N 1 brand for a fast detox'.
The Seller further claims that 'Herbal Clean's unique blend of herbs and minerals flushes out all the toxins quickly to help a user detoxify his body.
These carefully selected herbs, extracts and minerals work together to do in just a few hours what the body would take a month to do on its own. Detox products work to remove toxins and bring the body back into balance the very same day.'
However, we have not seen any proofs of this!
We are of the opinion that, like most of the other "detox" cleansing products, Herbal Clean QTabs is only designed to dilute the urine and restore body nutrient levels to normal for only between 1 to 5 hours (known as the "detoxification zone"), not completely detoxify the body.
During the "detoxification zone" period :
1. Your urine is allegedly free of drugs that the test is designed to detect, and
2. Normal levels of background nutrients are reestablished. As a result, your urine possesses the "markers" that drug tests look for to see if you are trying to beat the test.
The detoxification zone starts 1 hour after you have finished taking Herbal Clean QTabs and continue for to up to 5 hours, with maximum effect during the FIRST 3 hours.
In summary: the two main principals behind this program are: (1) to dilute the urine and (2) to add necessary vitamins and minerals. The goal is to beat the drug test, not to completely detoxify the body.
Since, time of detoxing is only 1 hour; it is highly unlikely to provide any significant body detoxification.
Time to dilute the urine is 1 hour.
Contents
• 10 tablets
Herbal Clean QTabs Ingredients:
• Vitamins: Protein, Calcium, Riboflavin, Potassium, Creatine Monohydrate.
• Herb Blend: Dandelion Leaf, Gentian Root, Turmeric Root, Barberry Root, Milk Thistle Seed, Juniper Berry,Licorice Root, Uva Ursi Leaf, Ligustrum Berry, Cornsilk , Alfalfa Leaf, Cayenne Pepper.
• Other Ingredients:Vegetable Stearic Acid, Cellulose, Silica, Croscarmellose Sodium, Vegetable Magnesium Stearate, Confectioners Glaze .
Summary Instructions: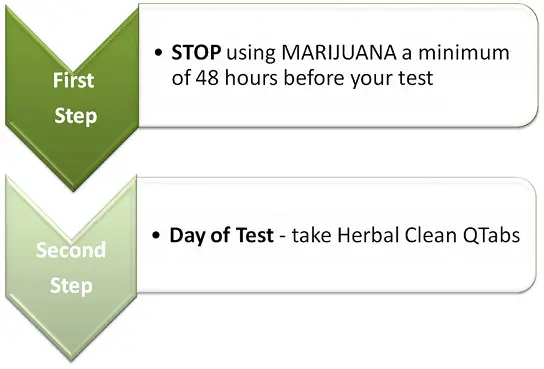 First Step: STOP using Marijuana!
Minimum of 48 hours before using Herbal Clean QTabs, you must STOP using marijuana! The longer you refrain from using marijuana, the easier it is to mask the toxin in your urine.
Second Step: Take the Cleansing Tablets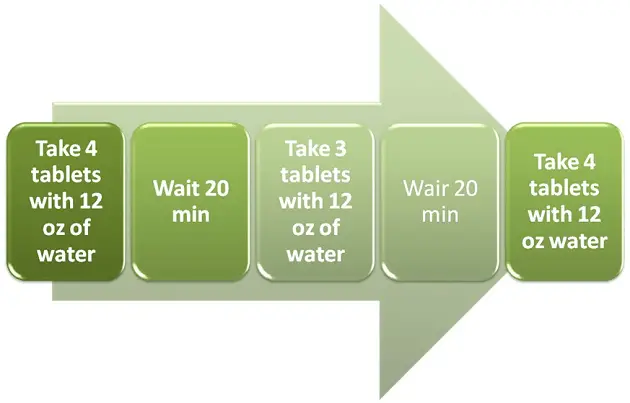 • On the drug test day, begin your cleansing program with Herbal Clean QTabs;
• Take 4 tablets with a 12 oz. glass of water;
• Wait 20 minutes;
• Take another 3 tablets with 12 oz. of water;
• Wait another 20 minutes;
• Take the 3 remaining tablets with an additional 12 oz. of water.
Individuals weighing over 180 pounds may wish to drink 16 ounces of water during each step instead of the 12 ounces mentioned above.
If you want to be sure of your drug test results, take a home urine drug test first.
To obtain best results, you should:
1.Drink as much water as possible;
2.Urinate as often as possible during the first hour after consuming the product;
3.Avoid taking any over the counter drugs, large quantities of vitamins, alcohol, acidic liquids such as vinegar or juices, nicotine, caffeine or other unwanted toxins prior to the use of this product. Avoid eating fatty or greasy foods;
4.Do not eat a large meal before using this product.
Pros / Cons
Pros
1. Herbal Clean QTabs costs significantly less than other detox products on the market.
2. Herbal Clean QTabs may work if you are only a light weed user. This is because the tablets contain some vitamins and supplements that increase body metabolism and help clean the body of THC, reestablishing body nutrient levels to normal during the "detoxification zone".
3. Most of the ingredients in this detox tablets are natural, which means the risk of side effects is low.
4. Money back guarantee from the manufacture.
Cons
1. Results vary from person to person. Factors that play a significant role include body weight, life style, individual metabolism and how often and how much marijuana is consumed.
2. Users of this product may experience minor nausea, diarrhea, dizziness and/or cramping. If you experience any of these symptoms, discontinue use of the product immediately.
3. Unlikely will work for the moderate and heavy users.
4. You must follow the instructions explicitly if you want to increase your chances of passing the test.
5. You must be on a strict diet on the day of the test.
Customer Support
Customer support for Herbal Clean QTabs is provided by www. Amazon.com via e-mail, chat and phone line.
Herbal Clean QTabs Final Verdict [Updated 2022]
We found 30% positive and 70% negative product reviews on various blogs and websites.
Users giving positive product reviews claim to have passed their drug test without any obstacles. On the contrary, customers posting negative product reviews claim they failed their drug test even when following the product's instructions to the letter.
You can check customers' positive and negative reviews here: Amazon.Review.com
We are of the opinion that Herbal Clean QTabs may work for users with a light toxin exposure. However, with a moderate and heavy toxin exposure, users need to complete more than 1 hour drug "detox program".
We are of the opinion that with a moderate to heavy toxin exposure, users need to complete at least a minimum 5 (five) day drug detox program.
If you want extra help in passing your drug test, you may try using Herbal Clean QTabs at your own risk.
Overall Ranking: 2/5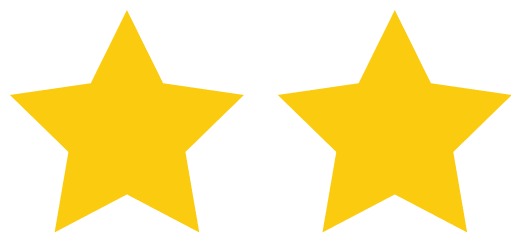 Have you tried Herbal Clean QTabs ? Let us know what you think!
If you found this review helpful, please "like and share" so Others can also benefit from it!