After checking my Stinger Detox Review (5x) you will find out the answer for your question "Does Stinger Detox 5x work for a urine drug test?"
Benefits of Stinger Detox
If you're heading to a job interview, or you've been told at work that you'll need to take and pass a urine drug test within the upcoming 1-2 hours, then Stinger Instant Detox 5X Extra Strength may (slightly) help you pass your urine drug test.
Overall Ranking: 2.8/5
Website: Amazon
Guarantee: none
Price: Check price
Language: English
Support: Amazon Customer service
How Can Stinger Detox 5x Drink Help You?
Stinger Detox has several products on the market. The 3 most popular ones are Stinger Instant Detox 5X Extra Strength, Stinger 5x 7-Day Extra Strength Permatox Liquid, and Stinger Whole Body Cleanser 1 Hour Liquid.
The quickest acting is Stinger Instant Detox 5x Extra Strength ("Stinger Detox"), which should work within 1-2 hours. This is the one we'll be focusing on in this review.
The Body Cleanser 1 Hour Liquid claims to work also within approximately hours.  The 7-Day Permatox Liquid claims to clear all drugs from your system within a week.,
The Seller, states that "The Stinger Detox 5x Extra Strength is the strongest personal cleanser available. It works best for heavy exposure and requires you to be at least 48 hours toxin-free prior."
However, we have not seen any proof of this.
The Stinger Detox manufacturer claims that this is an actual 'cleanser product'.  However, in our opinion Stinger Detox is not technically a cleanse/detox product as it does not completely cleanse body from toxins. In point of fact, it's impossible to completely cleanse the body of toxins such as THC within 1-2 hours.
The primary mechanism through which this product works is by diluting the urine and adding necessary vitamins and minerals – all necessary to pass a urine test. The product does not actually detoxify the body. This makes it most effective only for light to moderate users.
Time of detoxing is 60 minutes
Stinger Detox

Contents:
8 oz bottle Stinger Detox different fruit  flavors like grape and raspberry.
Ingredients: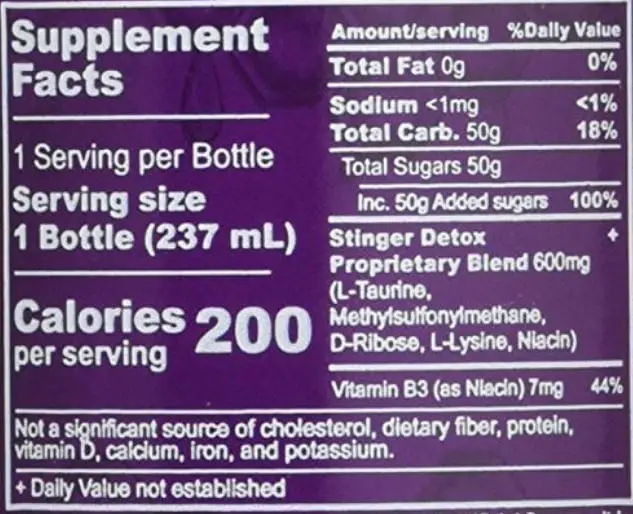 Sodium < 1%
Total carbs 50gm
Vitamin B3 (Niacin) 7mg
Stinger Detox Proprietary Blend 600 mg (L-Taurine, Methylsulfonylmethane, D-Ribose, L-Lysine, Niacin)
We note that some review websites claim that Stinger Instant Detox 5X Extra Strength relies on carbs and other amino acids. These review websites claim that the niacin and L-Lysine in particular are the ones that help the body burn fat to flood the blood with THC. L-taurine is claimed to detoxify the liver.
It is our view that if Stinger Instant Detox 5X Extra Strength drink works by burning fats in users' body this would only increase the amount of THC in the urine. Furthermore, the manufacture claims that the product is only effective for 60-90 min. However, in our view, it is impossible for the body to burn and eliminate significant amount of THC during such a short period of time. Detox burning process work over a period of several days, not over several hours.
This is why we classify the Stinger Instant Detox 5X Extra Strength drink as a 'dilution' product.
Instructions: How to Use

Stinger Detox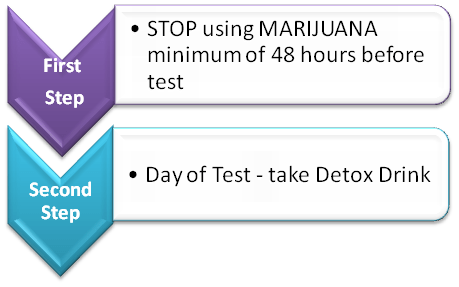 First Step: STOP using Marijuana
Minimum 48 hours before using Stinger Detox drink, you must STOP using marijuana.  The longer you refrain from using marijuana, the easier it is to mask the toxin in your urine.
Every hour you lay off marijuana, the body lowers the THC.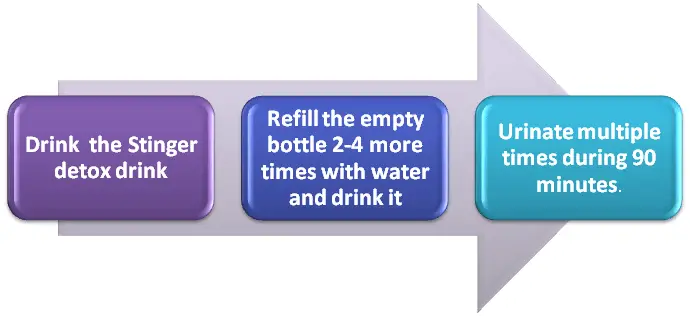 Second Step: Take the Cleansing Drink  
Drink the Stinger detox bottle (8 ounces) one and a half hours (90 minutes) before the drug test.
Refill the empty bottle 2-4 more times with pure water and drink it all again.
Urinate multiple times during the 90 minutes while you wait for the drug test.
Make sure that the above step happen before taking the drug test.
To increase your chances of passing a urine drug test:
Drink lots of water a few days before the test.
Urinate frequently to eliminate the THC from your bladder.
Avoid dairy products.
Avoid fatty meals.
Consume fruits and vegetables as they're rich in fiber.
Don't take unnecessary drugs a few days before the drug test.
Pros / Cons of

Stinger Detox
Pros
Might be effective for light and moderate users.
There are no herbs or harmful products listed in the ingredients of Stinger Detox drinks. So there's no additional harm.
It will boost your energy thanks to its carbohydrate content.
Supposedly works in just 90 minutes.
You only need to stop consuming THC products for 48 hours beforehand.
Cons
Results vary from person to person. Factors that play a significant role include body weight, life style, individual metabolism and how often and how much marijuana is consumed.
Unlikely works for the heavy user.
You'll need to drink lots of water after drinking the product itself, which could be inconvenient and add a load to your kidneys.
No actual detoxing. You just dilute the urine enough to pass the test. But THC remains in your body.
There's no guarantee that it works according to proven studies.
No 'money back guarantee' from the manufacture or reseller.
It's not FDA approved. So its safety isn't guaranteed.
It contains niacin, which can cause flushing and dizziness in some people.
You should definitely avoid the product if you're under 18 years of age, pregnant, sick, or on any kind of drugs- whether prescribed or over the counter.
Is There Customer Support for

Stinger Detox

?
Customer support for this product is provided by Amazon via e-mail, chat  and phone line. Here is where you can reach them for support.
Stinger Detox 5X Final Verdict: (Updated 2022)
We did not find many positive reviews on numerous blogs, websites or online store like Amazon reviews. In addition, there are no proven studies to justify that the the Stinger Detox drink is effective as well.
We are of the opinion that Stinger Instant Detox 5X Extra Strength is one of many popular, and well promoted "detox" products, that already contains many vitamins and supplements that increase body metabolism and help clean the body of THC and reestablish body nutrient levels to normal during the "detoxification zone".
If you would like to try something different, you might consider using the Stinger Detox drink to increase your chances of passing your urine drug test. The product is in a price range of other such "detox" drinks.  This product will only be helpful if you have a light to moderate toxic exposure.
Overall Ranking: 2.8/5

Do you have any experience using Stinger Detox drink? Others looking to pass a drug test would certainly benefit from your experience so share it with us in the comments.
and