Overall Ranking: 4.6/5


Website: VaporNation.com
Warranty: Lifetime warranty
Price: $187.49
Language: English
Support: VaporNation.com
Benefits
Arizer Solo II Vaporizer will provide you with an excellent experience in vaping medical marijuana.
Overview – How Can Arizer Solo II Vaporizer Help You?
If you're looking for a portable vaporizer to smoke medical marijuana dry herbs, then you probably will come across the Arizer Solo II.
Following the success of the original Arizer Solo, the Arizer Solo II is here to provide a better vaping experience with a better battery, airflow, and an exciting LED display. You can also customize its settings for your preferred vaping sessions.
Whether you're looking to vape medical marijuana at home or on a busy day out, the Arizer Solo II is certainly a compelling choice considering all of its features.
When it comes to portability, there are better options out there. But very few of the options match the battery power and overall performance of the Solo II. However, this device can't vape waxes or oil. So if you like to try different forms of marijuana, then you won't be able to do that with the Solo II.
Arizer Solo II Vaporizer Parts:
• 2 x Glass Aroma Tubes
• 1 x Glass Ground Connection
• 1 x Stir Tool
• 1 x Wall Charger
• 1 x Carrying Pouch
• 1 x Sample Lavender Bag
Temperature Control:
1.Portable vaporizers aren't big on precise temperature settings. After all, the devices are too small to accommodate precise settings.
Besides, when you're vaping outside you aren't really looking for the most precise temperature setting as you'll most probably be hanging out with other people or at work. Arizer Solo II, however, thinks you still deserve to vape with the temperature of your choice. The temperature range in the vaporizer is from 122 to 428 degrees Fahrenheit.
2.You can browse through the temperature at either single or ten degree increments. If you want big clouds, then choose higher temperatures. If you prefer smaller clouds, but with more flavor, then go for the lower temperatures. Once you select your temperature you'll be able to start vaping in no time thanks to the device's fast heat up time.
3.The Arizer Solo II heats up in less than 30 seconds. It also produces some of the most flavorful vapor in the market. Sure, there are smaller portable vaporizers out there.
But when it comes to size plus taste, the Arizer Solo II outperforms most other similar products on the market.
Battery and Design:
1.Its battery power is also decent. You'll get 3 continuous hours of vaping out of the Solo II before it runs out of juice. This amounts to about 20 uses per charge. What's great is that it charges really quickly. Once you get home, or wherever there's a plug you can use, it'll charge to full battery within 90 minutes.
If you prefer to smoke marijuana waxes, oils, or concentrates, then you shouldn't be considering the Arizer Solo II. This device can only be used to smoke herbs.
It has all the qualities, however, to provide you with great vaping. The fact that the device is made mostly from glass interior is one of its main strong points. The flow of air through the glass tubes is free and effortless. The glass also doesn't impact the taste of the vapor.
2.When it comes to design, this device isn't the most attractive. It's neither elegant nor is it as small as some of its competitors on the market. The device is a semi-cylinder/oval and its black color doesn't look too smooth or elegant. On the front it has the LED screen, the power button, and up and down buttons. On the back there are lights that indicate the device's temperature setting or indicate if it's idle.
Short Summery Instruction: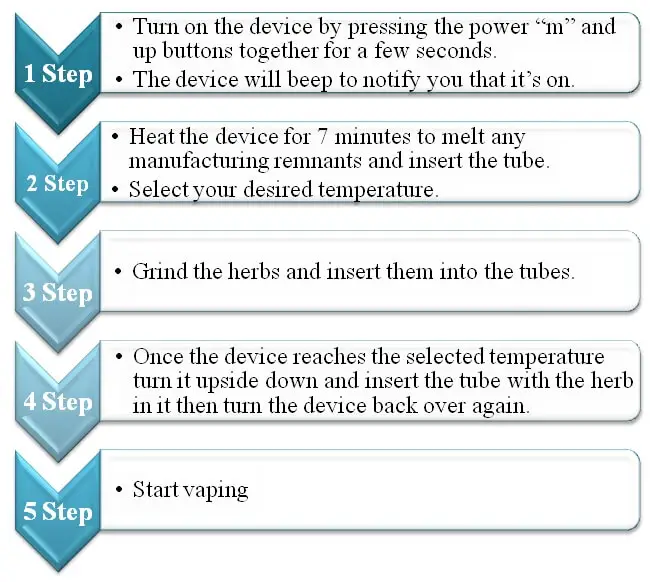 • Turn on the device by pressing the power "m" and up buttons together for a few seconds.
• The device will beep to notify you that it's on. You can turn off the sound by holding the up button for 3 seconds.
• Heat the device for 7 minutes to melt any manufacturing remnants and insert the tube.
• Select your desired temperature.
• Grind the herbs and insert them into the tubes. Grind them well, but not too much so they don't fall into the unit itself.
• Once the device reaches the selected temperature turn it upside down and insert the tube with the herb in it then turn the device back over again.
• Start vaping.
Usage Tips:
1.Let the device heat for a few minutes before the first use.
2. Select high temperatures for thick and bigger clouds.
3.Select low temperatures for more flavor and taste.
Cleaning and Maintenance:
1.Pop out the glass stem.
2.Clean the dish with isopropyl alcohol.
3.Turn the device upside down to clean the herb chamber and shake it then wipe it with isopropyl alcohol.
Pros / Cons
Pros:
1.High quality vapor for vaping medical marijuana.
2.Powerful long lasting battery.
3.Customizable temperature settings.
4. Lifetime warranty.
5.Portable.
6.Cheaper than most of its competitors such as the Mighty and Crafty.
7.Easy to use and clean.
Cons:
1.Can't be used to smoke marijuana waxes, oils, and concentrates.
2.Design isn't very attractive.
3.Not as portable/small as other devices on the market right now.
4.No balloon bag system.
Customer Support
Customer support Arizer Solo II Vaporizer is provided www.vapornation.com by e-mail, chat and phone line. www.VapoNation.com.
Arizer Solo II Vaporizer Final Verdict:
Is the Arizer Solo 2 worth it?
Our final verdict is that the Arizer Solo II deserves a 4.6/5 rating. A few factors that brought down the rating are the fact that it can't be used to vape waxes/oils, its design, and its portability.
How efficient is the Arizer Solo 2?
Compared to products such as the Mighty and Crafty, it beats them only when it comes to battery power.
Apart from that, it's still a great device for anyone looking to vape medical marijuana, especially considering how easy it is to use and its precise temperature settings.
Overall Ranking: 4.6/5


Website: VaporNation.com
Warranty: Lifetime warranty
Price: $187.49
Language: English
Support: VaporNation.com
Have you tried vaping medical marijuana using the Arizer Solo II? If you have, then please leave a comment with your experience. I'm sure others will benefit from your experience.
If you found this review helpful, please "like and share" so Others can also benefit from it!